Festival Dates:
Thursday April 26, 2018
Friday April 27, 2018
Saturday April 28, 2018
Sunday April 29, 2018
Festival Location:
Douglas College. New Westminster
700 Royal Avenue
New Westminster, BC
V3M 5Z5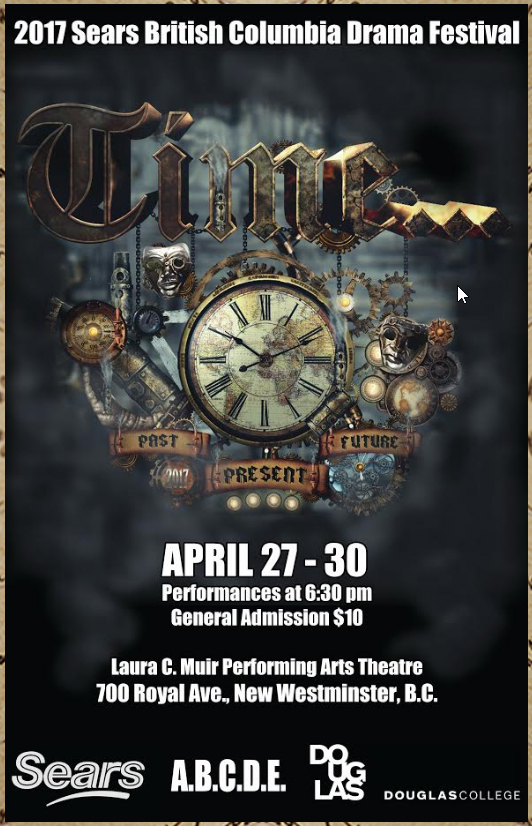 OVERVIEW
The National Theatre School B.C. Drama Festival showcases the productions that have been selected as Outstanding in their Zone Festivals and original scripts written by students who have been selected as Outstanding Playwrights from the Youthwright Playwriting Competition.

At the Festival, students and teachers will participate in two days of workshops, three evenings of theatre performances, and a variety of social activities.
---
ADJUDICATION
Performing schools will receive a private adjudication.
Jennifer Clement
Provincial Festival Adjudicator
A professional actor for over 30 years, Jennifer is currently the Head of the Acting Program at VFS - Vancouver Film School. Jennifer's more recent work includes The Day before Christmas and It's a Wonderful Life at the Arts Club Theatre and The Trespassers by Morris Panych, a Vancouver Playhouse/ Belfry co-production for which she won a Jessie award. Jennifer has worked across the country at the National Arts Centre, Globe Theatre, Dream in High Park, Alberta Theatre Projects and Theatre Calgary with favourite productions including Coward's Blithe Spirit, Stoppard's The Real Thing, Churchill's Top Girls, Shaw's Candida and Shakespeare's Hamlet.

In the film and TV world, she has been on Supernatural, Diary of a Wimpy Kid, X-Files and is especially proud of the Canadian work on Fido, Waydowntown, Da Vinci's Inquest and the series My Life as a Dog. Jennifer is a graduate of Ryerson Theatre School and York University.
---